Six Affordable Ways to Add Value to Your Home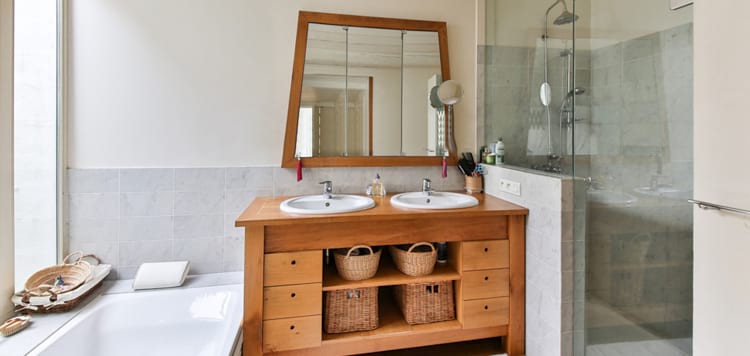 Sep 2018 26
When you're putting your house on the market, you want to do anything you can to add value and attract buyers. While tackling several full-fledged remodeling projects is surely effective, that strategy can be overwhelmingly expensive. Fortunately, there are inexpensive DIY projects that can do the trick. All you need is time, patience and good tools. Here are five simple DIY repairs that will add value to your home.
Know your worth
Your first project should be to find out how much your home is currently worth. You can start by doing a free online estimate, which can get you surprisingly close to your house's selling price. Having an idea of the value will help you brainstorm about repairs and renovations. You'll then want to bring in a real estate agent to conduct a home-value assessment. Hiring a professional appraiser may give you the most accurate evaluation according to your home's unique characteristics, but it's not always worth the money. In most cases, a listing agent should be able to prepare a comparative market analysis.
Once you have your current home's value, you can determine what repairs and renovations will enhance your home's appeal to potential buyers and begin to develop your budget.
Refurbish the kitchen
Out of all the rooms in your house, the kitchen will give you the greatest return on refurbishing. The great thing is that you don't have to replace everything to give your kitchen a face-lift. Deep cleaning the cabinets and countertops can go a long way, as well as putting new handles and knobs on the appliances. If you need to replace some things in your home, installing new drawers and cabinet doors is the best bang for your buck. You can remodel these effectively with a sturdy set of tools such as drills and screwdrivers. Don't forget to have flashlights on hand for hard-to-reach and dark areas to ensure you can properly make repairs. Replacing certain appliances can cost a lot of money upfront, but sometimes it's needed if they don't work well or serve as an eyesore.
Update the bathroom
The master bathroom is the other most important room in the house to update. You can wow potential buyers by making just a few changes. Replace the old vanity, mirror and light fixture with new ones. Put a fresh coat of paint on the walls and cabinets, and put on new drawer handles. Install a new toilet seat with matching towel bars. Also, deep clean the shower, add a new curtain and change out the shower controls and other hardware. The added appeal to your bathroom will make it worth every cent.
Get rid of popcorn ceilings
Popcorn ceilings may not keep someone from buying your house, but getting rid of them will definitely make your house look less dated. With just a few tools and simple instructions, you can remove it yourself. If the house is older, have a professional test it before you work on it because there may be asbestos in the ceiling.
Check the HVAC System
The last thing buyers want to deal with is a finicky HVAC system. Do your part to keep your furnace and AC units running smoothly by replacing the air filter. Ideally, go with a filter that has a high MERV rating to ensure allergens and particulates are being collected -- the higher the MERV, the better the filter. While there are some DIY options for maintaining your HVAC system, certain tasks are best left to the pros. By addressing this now, you already know what needs attention.
Spruce up the yard and entrance
Another inexpensive way to impress prospective buyers is to give your yard and entranceway some TLC, as these will be the first areas seen during a showing. Maintenance like mowing, trimming bushes, raking leaves, and watering plants is essential. Adding mulch around trees and plants looks great and it's inexpensive. You'll also want to declutter the front porch and entranceway to open up the space for prospective buyers. Painting the front door and replacing the doorknob can put a nice touch on a welcoming entrance.
Giving your house a few upgrades doesn't have to be expensive. If you take the time and use the right tools, you can add appeal and value to your home at relatively low costs. First, get a home-value estimate to help you plan for renovations. Budget to give special attention to the kitchen and master bath because they're typically the most important to buyers. Get rid of any popcorn ceilings, freshen up the yard and create a welcoming entranceway. If you follow these tips, you'll be able to raise your asking price and sell faster.