Air Conditioner Repair Chicago
It's difficult to feel comfortable at home when your air conditioner breaks down. Luckily, well-trained and reliable help is just a phone call away. Whenever your air conditioner starts acting up, simply let HVAC Experts know about it and we'll make it our main concern to get your system up and running again.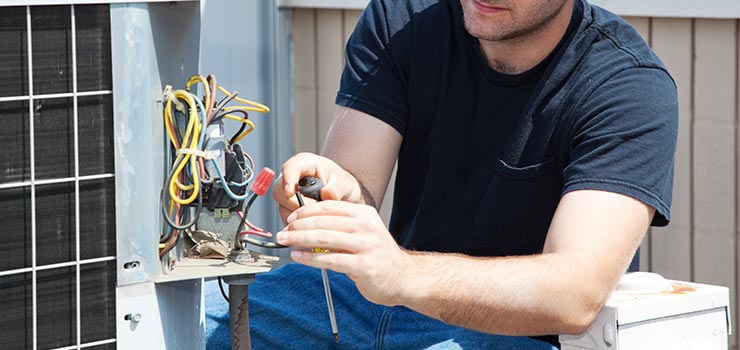 Our highly experienced contractors can service and repair any model of air conditioning system, no matter how difficult the task. They will quickly find and fix the problems in your air conditioning system and return comfort to your home.
No one wants to suffer through a heat wave without an air conditioner. Call us at (630) 216-8883 and we'll attend to your air conditioning repair needs promptly.
Emergency AC Services in Chicago - Available 24/7
If you find yourself with a broken AC on a hot summer's weekend - just hours before your guests are supposed to gather for a party you've been planning for so long, there is no need to cancel. Our emergency AC repair services are readily available 24/7 in Chicago and our technicians will attend to and fix your unit, no matter if it's day or night, if it's the 4th of July or just a regular Tuesday afternoon.
There is no need to suffer in a hot and sweaty environment when the cool breeze coming from your HVAC system can be restored in just a few moments. Simply call us at (630) 216-8883 and we'll attend to your air conditioning emergency promptly and efficiently.
Common AC Failure Reasons
The need for AC repairs is the main reason why our phone rings in the summer. Air conditioners stop working for a variety of reasons and in the most inconvenient times possible. We've been called to attend to units that have stopped working in the middle of the night, on the morning of a 4th of July party, just a couple of hours before an important conference when it's a hundred degrees outside… And we tackled each of those situations with professionalism, knowledge, and speed.
Our experience with HVAC has shown that the most common reasons for AC failure are:
Lack of maintenance

Faulty wiring

Frozen coil

Low refrigerant levels

Refrigerant leaks

Underperforming outside fan

Not functional outside unit

Electric control failure

Sensor problems

Airflow problems
Some of these faults are easier to fix than others, however, even if you believe you can determine and remove the problem on your own, we strongly suggest that you don't attempt AC repairs on your own. Qualified HVAC technicians will solve the issue more quickly, reliably, without any harm done to the equipment, and you won't have to risk your safety in the process.
Benefits of Regular Air Conditioning Maintenance
Air conditioning maintenance is the key to ensuring that your system is up-to-date and can cool your home whenever it gets hot outside. The key benefits of regular air conditioning maintenance include:
Energy efficient cooling
Lower energy bills
More reliable and consistent cooling
Fewer AC repairs
Longer HVAC system life expectancy
Better indoor air quality
Quietly working AC system
While it's recommended to have your AC tune-up done in the spring, before you start using the system on a daily basis, it's never too late or too early to perform maintenance. So, if your unit hasn't been attended in a while, schedule your AC maintenance now, and our friendly technicians will make sure that it's running efficiently.
Contact HVAC Experts for AC Repair or Maintenance Now
AC repair and maintenance can restore comfort to your home when the air outside is boiling hot. Our technicians will thoroughly inspect coils, check every wire, assess the fans, increase refrigerant levels and make sure that your unit is otherwise in the best possible condition to provide your home with the cool air that makes staying indoors refreshing.
So call us at (630) 216-8883 or schedule your AC repair or maintenance online, and we will get your unit up and running to make your home comfortable once again.